Wellness Retreats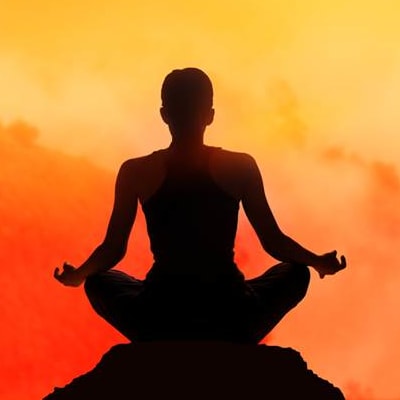 2 days & 2 nights of guided self-pampering
by Eugenia Falls and the glorious Beaver Valley.
EXPERIENCE
Reiki - Guided Meditation - Massage
LEARN
Holistic Nutrition & Meal Prep
Essential Oils
DO
Hiking - Forest Bathing - Yoga
Crystal Healing Bracelets & Mala Making
BE
Grateful - Joyful - Connected
Let's create a weekend or mid-week getaway
for you and your wellness-conscious friends.
Call: 519-924-0234
Email: guesthouse@eugeniafalls.ca
Digital Detox Retreats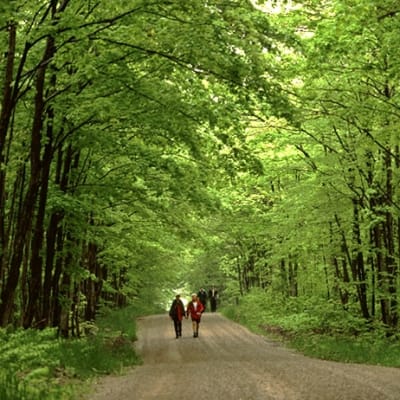 2 days & 2 nights of getting completely immersed in nature . . .
No cell phones
No computers or screens or digital technology whatsoever
No WIFI, internet, TV or clocks
No Networking, work talk, stress, anxiety
It's not just about "unplugging". It's about rediscovering what happens when we truly and purely "plug-in to life". As we disconnect from our devices, we reconnect with our self, our community, nature and the world at large.
Our retreats can include a selection of activities from guided meditations and breathwork to guided hikes, art and poetry gatherings to a paddle on the Beaver River, yoga or tai chi to forest bathing, foraging to edible gardening.
And, of course, healthy mindful meals indoors and out, relaxation, peacefulness and camaraderie.
You and your group will come away with clarity, vision, enhanced creativity, adjusted perspective and heightened awareness.
Please contact us at 519-924-0234 to arrange a Digital Detox Retreat for your group.
Reference http://digitaldetox.org/retreats/
Art Retreats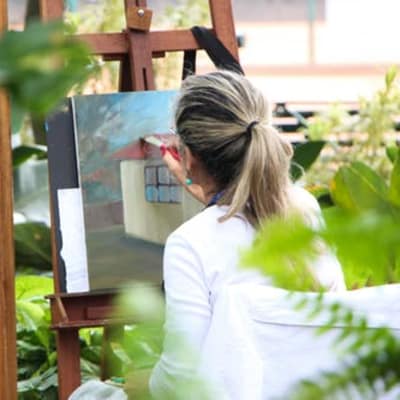 "Lose yourself in art; find yourself in art." - Annabelle Everett
We invite you to bring together 6 to 10 of your most creative family and friends to share a 2-day & 2-night experience of losing yourselves and finding yourselves in our
Eugenia Falls Art Retreat
Typically the package includes:
a one-day lesson in watercolour, acrylic or oil painting
a half-day lesson in glass blowing or copper bracelet making
a half-day for chilling out, taking a guided hike and "forest bathing"
easels and art supplies
teachers & guides
meals (or you can bring and prepare your own)
Prices start at $300 per person for the entire 2-day/2-night retreat package.
Learn more and book your retreat by calling us at 519-924-0234 or email guesthouse@eugeniafalls.ca
We'd love to help you create your perfect art experience!
Art at the Falls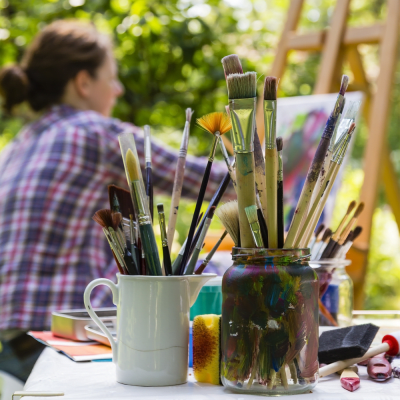 The Eugenia Falls and Beaver Valley landscapes offer some of Ontario's most awe-inspiring settings for both seasoned and hobbyist artists.
We invite you to join us as we "venture into the wild" for a one of a kind art experience "en plein air" with Artist, Robert Pointer
Here's what you'll need to bring
- your love of outdoors
- your creative spirit
- your zest for adventure
. . . we'll provide the rest
– easels, canvases, brushes, paint, resting stools, refreshments
...and inspiration!
We'll even share some stories about the famous Gold Rush that took place in 1851 right here at this historical site.
AND, you'll take home your completed work of art !!


_____________________________________
So plan to join us on the 1st Saturday of each month
Spring, Summer & Fall 2019
Advance reservation is required - Book now to reserve your spot
May 4 Jun 1 Jul 6 Aug 3 Sep 7 Oct 5 Nov 2
Morning 9:00 am - 12:00 noon or Afternoon 1:00 pm - 4:00 pm
Maximum 10 participants per experience
----------------- OR ----------------

Book your private group of 6 - 10
We'll arrange a date & time that works for you and your family or friends.

_____________________________________
Add in a catered lunch or light supper on the patio of . . .
The Guest House at Eugenia Falls
$16 per person
Why not make a weekend of it . . .
book a room or rooms
The Guest House at Eugenia Falls
Book your Art at the Falls experience by contacting
E: guesthouse@eugeniafalls.ca or P:519-924-0234
Beaver Valley Tours & Daytrips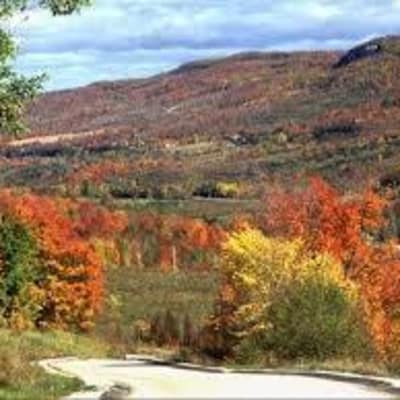 Grey County's Beaver Valley stretches from Hogg's Falls in Flesherton north to the shores of Georgian Bay in Thornbury. The Niagara Escarpment and Bruce Trail run through it and it is home to the Beaver River and spectacular waterfalls. The area is rich in history and geology and is renowned for its agriculture with sprawling farmlands and bountiful apple orchards. Dozens of towns, villages and hamlets thrive in the Beaver Valley area and its landscape is one of the most awe-inspiring in Ontario. It abounds in outdoor adventure, sport, arts & culture and attractions to please tourists of all ages.
To arrange a custom tour of the Beaver Valley and areas beyond, contact us at 519-924-0234 or email beavervalleytours@eugeniafalls.ca
Forest Bathing